Series II Suspension Lift Kit 635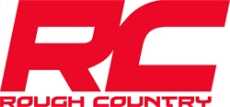 Product Description
Give your Jeep a more aggressive look with Rough Countrys easy-to-install 2.5in Series II Suspension Lift. This all-inclusive kit comes with everything you need to run up to 35in tires in an innovative kit that wont break the bank!Featuring 2.5in front and 2in rear coil spacers, this kit gives your Jeep a great boost for additional ride height and an eye-catching level look from front to rear. This kit is engineered with a spring retention design, ensuring that your coils always stay in place even during extreme articulation, while the rear track bar bracket keeps the rear axle perfectly centered.This easy-to-install kit features a 100% bolt-on installation process thats easy enough to do in a home garage! Enjoy the lifted life with Rough Countrys 2.5in Series II Lift kit!
Product Features
Clears Up To 35 in. Tires
100 pct. Bolt-on Installation
Increased Ground Clearance
Levels The Front w/The Rear Of The Jeep
Product Specifications
Lift/Drop Height: 2.5 in.
Application Guide